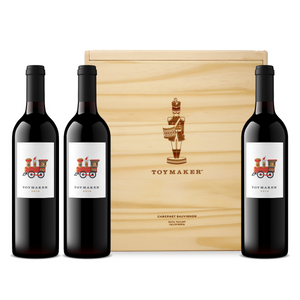 The outstanding 2016 growing season was marked by hot and dry weather but no prolonged extremes or heat spikes. Our flagship wine, the 2016 Toymaker was aged 28 months in new French oak prior to bottling and, with an 18 additional months of bottle aging prior to release, is already hitting its stride as it enters the early portion of its lengthy drinking window.
Winemaker: Martha McClellan
Varietal: Cabernet Sauvignon (100%)
AVA: Napa Valley
Barrel aging: 28 months Taransaud French oak (100% new)
Alc.: 15.1%
Production: 200 cases
Tasting Notes: Dark garnet-ruby in color with an expressive nose of red and black cherries, warm baking spices, and sweet oak, the 2016 ToyMaker fans out on the palate with an expansive wave of cherries, cassis, and graphite, wrapped in powerful, ripe tannins that are supple in texture and linger on an extended finish, suggesting a long life ahead for those patient enough to let some bottles rest in their cellar.
Order this limited 3-bottle branded wood case of 2016 Toymaker and pay only for the additional cost of shipping.
Ships to AK, AZ, CA, DC, FL, MN, NM, NV, NY, OK, OR, TX, WA, WI.
Available exclusively from ToyMaker Cellars