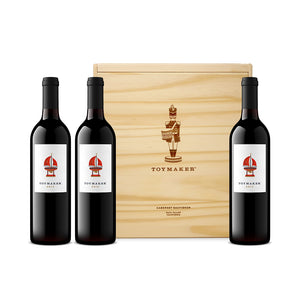 Limited exclusive Carbon GEMS collaborative offering
For the third year in a row, the superb growing season of 2014 ushered in a vintage that surpassed expectations. Late February rains, on the heels of one of the driest winters on record, gave way to a surprisingly early bud break and an advantageously long period for the grapes to mature and ripen. Spring's brisk bloom was followed quickly by moderate summer temperatures ranging on average between 80 and 90 degrees Fahrenheit—optimal conditions for producing wines of great depth, concentration and rich, ripe tannins. Conditions remained consistent and favorable throughout the summer and up to veraison, leading to a stunningly bountiful harvest of flawless and fully matured fruit.
The 2014 Toymaker is the culminating taste of this unique and extraordinary vintage. Like the long growing season itself, luscious, ripe, red fruit notes draw a seamless thread of distinguished flavor and texture across the palate, leaving a long, powerfully dense and opulent finish indicative of beautifully matured supple skin tannins.
Winemaker: Martha McClellan
Varietal: Cabernet Sauvignon (100%)
AVA: Napa Valley
Barrel aging: 28 months Taransaud French oak (100% new)
Alc.: 14.8%
Production: 200 cases